Along the way I've met some of the most amazing little girls and young women.  I will be journaling about them on my Blog. Here is the story of the way the Lord inspired Princess Dresses: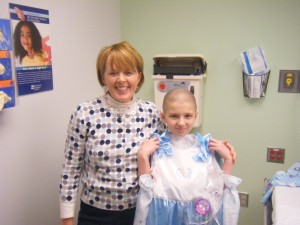 It was the first of November and my two oldest daughters and I were headed to see Beth Moore, a Christian Inspirational speaker, in Springfield, Illinois. Despite being diagnosed with walking pneumonia, I knew the Lord wanted to tell me something, so I was determined to go. Even though "Satan" was telling me that's a long trip to Springfield and I wouldn't be up for it – 14 hours in two days – I did go!
On the second day of the conference, Beth randomly went out into the audience to speak with ladies on what they had enjoyed about the conference thus far. The second lady she spoke with said that the day was her husband's birthday, and her husband had died three years ago of cancer. Beth responded that she knew there were others there going through the loss of a loved one. I was one of the other ones.
When Beth returned to the podium, she said:
Risk Fresh Hope. I'm talking to the ones here that have lost a loved one. You will never forget your loved one, but you need to get on with what the Lord wants you to do!
Then she quoted, Isaiah 43:19: "Behold I will do a new thing, now it will spring forth."
She was talking to me and I just let the tears flow. On my way home I was so excited about what I had heard and, not paying attention to the directions home. I missed my exit and was headed toward Chicago instead of Columbus, Ohio. It seemed like there were no exits off Interstate 57. We traveled for almost 45 minutes until I could reroute my way home. I didn't have a GPS to reroute my path, so I had to pull over and use an atlas.
"God directs your steps" (Proverbs 16:9). There was a reason why God wanted me to go this way and that was to see Peyton Manning Children's Hospital, formerly Riley Childrens' Hospital, in Indianapolis, Indiana. God told me to "make a dress for Peyton" and He kept ON saying, "Make a dress for Peyton."
When you hear God speaking to you, you obey. So I made a dress for Peyton. Several weeks before Christmas, I was playing phone tag with Peyton Manning Children's Hospital. The week of Christmas, I had lunch with some ladies, and one mentioned that she had a friend whose daughter had been battling cancer for several years and asked if I could make a Princess dress for her. I asked her what her size was, her age and her name. Jenny responded that her name was "Peyton." I felt God speaking to me saying "Thank you for obeying me." I immediately asked what her address was and said I would mail it right away.
That evening Jenny called with excitement. She had received a call from Peyton's mom saying they would be at Nationwide Children's Hospital the next day and wondered if I could meet her and present the dress to her. I was overwhelmed with joy and gratitude to the Lord. I had been praying for two years to be able to actually meet a little girl, present her a dress, and see her reaction. Her procedure was scheduled for 9:30 a.m., and we arrived at 10:20 a.m. We thought she would be having her procedure, but she was sitting in bed with the prettiest smile just as if she was waiting for us. I told her my name and about Princess Dresses of Love. I asked her favorite color, and she replied, "Blue". My dress for her was blue, and she got out of bed and we then took pictures of her holding up her dress. After a few minutes, she got back into bed and it was then that the nurse came in and said, "We are sorry for the delay, but are you ready now for your procedure?"
What a day that was!!!! It was all about God's timing. For you see, the day I presented the dress to Peyton was the same day, three years previous, that my dearest David was buried in Virginia.