In life, we don't know why things happen the way they do, but we have our faith, hope, love and the reassurance that God is in control of our lives.
About Me
My journey begins in May of 2006 when my husband and I received the news that would change our lives forever. We were sitting in front of an oncologist, hearing these words:
After reviewing the CAT scan, it shows that you have a large tumor at the head of your pancreas, and after reviewing the results from the biopsy of your liver, the cancer has already spread to your liver. I am so sorry to have to tell you that you're stage 4 of pancreatic cancer, Mr. Gordon, and if there's anything in life that you want to do or people you want to see, I suggest you do it now because you have at the most three months to live.
Our dreams and plans for our lives stopped that day.
I want to share some information about my dearest husband. He was a Godly man, born and raised in South America where his parents were missionaries for over twenty years. He was a graduate of Virginia Tech and majored in electrical engineering. He was the smartest, kindest man I had ever met. He was my prince, my best friend, soul mate, and we had been married almost 21 years.
My first initial response to hearing the news that David had cancer was to question God — and I did. "Why God, and why David?" I went as far as to ask, "Did you make a mistake? The world needs men like David!" One of the hardest moments for my husband was to tell our daughters the news. It broke his heart that he wouldn't be there to see them grow up. For me, I couldn't imagine life without him. I wanted to grow old with David.
With life-changing events you turn to your faith, and that is what we did. We felt God wrap His arms around us and promise that He would never leave nor forsake us. God filled my heart with Scripture I had learned as a little girl attending Sunday school. Jeremiah 29:11 states, "For I know the plans I have for you declares the Lord, plans to prosper you and not to harm you, plans to give you hope and a future."
God had a plan for David. He was a witness for Him throughout his illness. David touched so many lives through his remarkable faith. He was never bitter, and he shared the love of Christ with everyone who came to visit him. David lived almost seven and half months after his diagnosis. He went home to be with the Lord at Christmas. The Lord was so merciful to give us that time to say goodbye. So many people approached me during the services for David and commented that David's illness made them reevaluate their own walk with the Lord. Life is short and we should never take it for granted because it can all change in one moment.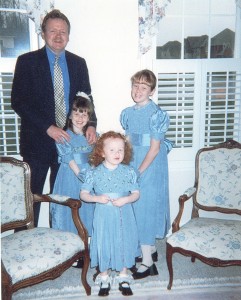 Since my husband's passing, my faith, as well as turning to God's word for answers and direction, has seen me through. Jeremiah 33:3 states, "Call upon me and I will answer thee and show thee great and mighty things which thou knowest not." I continued to read His word for direction. In Matthew 22: 37-39 Jesus is asked what is the greatest commandment and He replies, "Thou shalt love the Lord thy God with all thy heart, and with all thy soul, and with all thy mind. This is the first and great commandment and the second is like unto it, Thou shalt love thy neighbor as thyself."
I started thinking, "Who is my neighbor?" and God answered– little girls with cancer and serious illnesses. Use your talent that I gave you to bless others. Since it was so hard for me to see David deteriorate and suffer, I thought how hard it would be to see one of my daughters suffer with cancer or a serious illness. That was my inspiration the Lord gave me to create Princess Dresses of Love. This non-profit organization is in memory of my dearest David, but most importantly it is to honor and glorify the Lord.
God said as Christians we will face trials, however, His wonderful promise is that He would not leave us. I know that David's death has shaped and molded me into a stronger Christian with the purpose to create Princess Dresses of Love for which I give God the glory. I have learned that God never wastes a hurt; He has told me that my greatest hurt will become my greatest witness and ministry to bring Him Glory.
I know my purpose on this earth is to show love and to be a servant of the Lord until He calls me home. I look forward to seeing David one day, but I long to see face to face my Lord and thank Him for walking beside me all the way and revealing His plan for my life– and most importantly to hear Him say, "Well done my good and faithful servant."